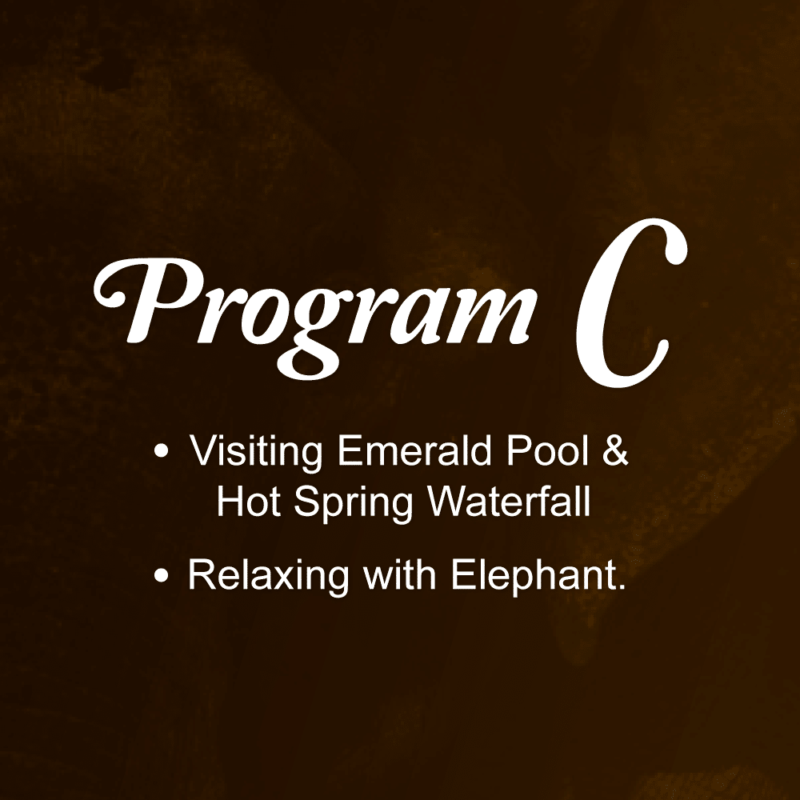 Program C : Visiting Emerald Pool & Hot Spring Waterfall + Relaxing with Elephant.
Duration : Spend ALL DAY with the Elephants and Doing Activities
From 8:30 – 18:30 hours, about 7 hours (Including Transfer)
Pick up Time :
Morning Program: 7:30 – 8:00 hours
————————
Rate :
Adult 4,000 THB
Child 3,000 THB
————————
Activities :
Walk with elephants and elephant feeding.
Get mud spa with your elephant.
Enjoy bathing with your elephant in the pool.
Enjoy Thai set lunch.
Prepare foods and herbal medicine for elephants.
Greeting with elephants.
Make paper from elephant's poo and take back the paper as souvenir.
Get swimming and relaxing at Emerald Pool.
Take a relaxing at Hot Spring Waterfall (natural spa).
*** Tour includes : Hotel transfer, Fruit, Water, Insurance, Local food.